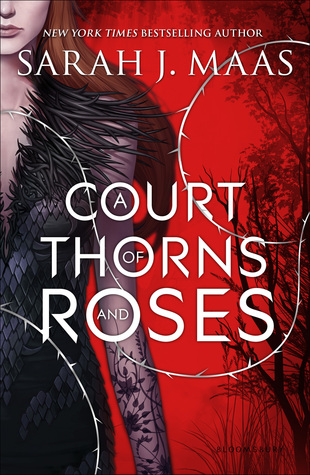 *ARC received for an honest review, thank you!
When nineteen-year-old huntress Feyre kills a wolf in the woods, a beast-like creature arrives to demand retribution for it. Dragged to a treacherous magical land she only knows about from legends, Feyre discovers that her captor is not an animal, but Tamlin-one of the lethal, immortal faeries who once ruled their world. As she dwells on his estate, her feelings for Tamlin transform from icy hostility into a fiery passion that burns through every lie and warning she's been told about the beautiful, dangerous world of the Fae. But an ancient, wicked shadow grows over the faery lands, and Feyre must find a way to stop it...or doom Tamlin-and his world-forever.
Hold on, I'm having a bit of a fangirl moment here. Sarah J. Maas I love you and I would read your everyday 'To Do' lists. I don't know where to begin with this review because I'm still halfway stuck in Pyrinthia and also I'm still a lot wound up from that ending! WOW. I have not read a book that exciting in a while...probably since the last book she wrote. I am so happy I started this Friday night because I never would have been able to drag myself away from it to go to school if I had started it during the week, future be damned. Every little aspect of the book was fantastic, from the lively writing to the magical world building that I fell in love with. But I have to say, the characters were my favourite part, they just seemed to leap out of the story and take on their own personalities, but I expected nothing less from Ms Maas. I just love this book so much that I need the sequels on my doorstep by tomorrow, at the latest. Another very special and magical series from Sarah J. Maas that is going to emotionally destroy me, I can see it now. But I will enjoy and savour every single moment of my destruction.
"Pity those who don't feel anything at all"