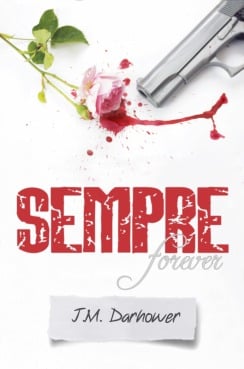 This is a story about sacrifice. Death. Love. Freedom. This is a story about sempre-forever.
Haven Antonelli and Carmine DeMarco grew up under vastly different circumstances. Haven, a second-generation slave, was isolated in the desert, hey days full of hard work and terrifying abuse. Carmine, born into a wealthy Mafia family, lived a life full of privilege and excess. Now, a twist of fate causes their worlds to collide. Entangled in a web of secrets and lies, they learn that whilst different on the surface, they have more in common than they think. In a world full of bloodshed and chaos, where money, power and loyalty rule above all else, Haven and Carmine yearn to break free. But a string of events that began before either of them were born threatens to destroy them instead. Murder and betrayal are a way of life, and nothing comes without a price-especially not freedom. But how much will they have to sacrifice? Can they escape their pasts? And will they finally learn what it feels like to be free?
I cried, I laughed, I cried some more and then I stared off into the distance for a while. J.M. Darhower, you make me feel emotions, and they hurt-a lot. As soon as I opened the first page I was sucked into a world coloured red. Blood, revenge and loyalty rule the pages of this fantastically written story and draw you into the perilous universe of the Mafia. I don't really read much about the Mafia, but as soon as I read the blurb for Sempre, I knew I had to read it. The characters are amazing in their complexities, even while they are tossing bodies into the ocean you can't help but feel for them! Carmine is a little shit, but you can't help but love him. Vincent is a scary mofo, but he has a lot of redeeming qualities. It's almost like reality is warped within this book-what's bad is good and what you think is great turns out horribly. Although this book is quite long, you never feel as though you want to get to the action, because the world is so alive and it feels like you are right there with the characters the entire time. And because with action comes guns and you know someone is going to die brutally. Underneath the bloodshed is a message from the author about slavery and doing whatever you can to be free. Haven and Carmine are both trapped by different circumstance, Haven to slavery and Carmine to the title of Principe della Mafia, though both find the courage within the other to fight for their freedom. Family is important, but La Famiglia is thicker than blood, it is everything.
Rating: 5/5 Titans
"But then she happened. The girl who had never been able to call her life her own taught a boy who had the world at his fingertips exactly what it meant to live."